Paradox: Royal battles look at us from all monitors, but good games on the subject can be counted on the fingers. Fortnite Battle Royale attracts the lack of price and cartoon visual style, but repels the ability to build walls in seconds. Playerunknown's Battlegrounds like for realism and earthiness, but mired in bugs, flaws and cheaters. And more to remember something and nothing-all sorts of Realm Royale, Fear the Wolves and the like were doomed to oblivion almost to release. And then came to the aid of Activision with Treyarch, to show everyone what should be a Royal battle from a major publisher with a huge budget.
They succeeded
The result was impressive – when you expect hastily blinded nonsense, and get almost perfectly working shooter, it is both surprising and joy. The surprise of how much effort has been invested in all this and how strikingly the game is different from what Call of Duty has offered over the years. But joy — because of the appearance of the battle Royal, which is a serious fault and there is nothing. Already at the beta stage, it works great even on a standard PS4, and Treyarch actively communicates with the community and makes changes based on feedback.
You can grumble and reproach the developers in the use of old maps — as you know, in Blackout (this is the name of this mode in Black Ops 4) huge by the standards of the series location is a monster Frankenstein, sewn from several maps. There is a Raid, Turbine and Hydro from Black Ops 2, there is Asylum from World at War, and without the famous Nuketown has not done. Oddly enough, in practice it well — between zones are large enough distance, dotted with small houses, and the use of different locations has made some parts of the map are completely different from each other.
Gameplay the game is not much different from other representatives of the genre. 80 people (their number during the "beta" has grown to 88 and will probably continue to increase) fly over the map, jump out at the right time and land at the selected point. This happens much faster than in Fortnite and PUBG — before you know it, you are already beginning to frantically search the next building in search of weapons. So far, the local equivalent of "Abandoned towers", where in the first five minutes killed 2/3 of the server was not found, but probably many will fall in some specific, most "rich" to the extraction point.
With a allowed to carry two of any type of weapon: submachine gun and sniper rifle, automatic and shotgun, powerful revolver and rocket launcher-a lot of options. In the starting bag fit only five items, among which may be first-aid kits, temporary amplifiers and parts for weapons such as silencers, butts and sights (the number of cells can be increased to ten, if you find a new backpack). The armor of one of three types is placed in a separate slot. First and second similar to each other — they completely cover the body and save the time of the shots, but the head remains vulnerable. But with the armor of the third level character wears a helmet, and then there is a problem with the balance — very much this helmet is difficult to break. Fortunately, Treyarch is already aware of the problem and plans to solve it.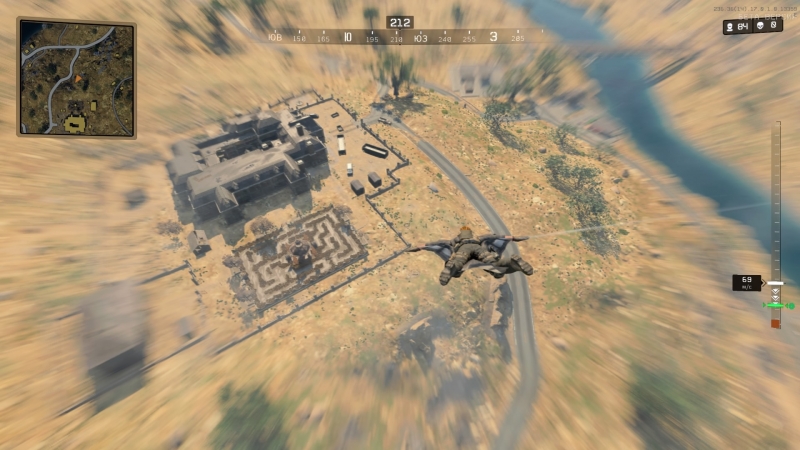 Aces up your sleeve
It all sounds like an almost complete copy of PUBG, but Blackout offers some interesting features. For example, there are many more vehicles — a Quad bike, a truck, a boat and even a helicopter. From Call of Duty least expect adequately working equipment, but in the "beta" it looks like helicopters and ATVs have been in the series all my life — all this is conveniently controlled and allows you to quickly get to the next round, if you gape and do not want to lose most of the health in the local "storm". Of course, such madness, which was shown in the trailer Blackout, the game is not — all too much value the only "life". But flying a helicopter with a squad that shoots running around the bottom of the poor fellows, damn fun. At the same time, destroy the transport is not a problem, so on getting the helicopter game does not end.
Another innovation is associated with amplifiers that give special abilities for a couple of minutes. They take up space in your inventory even after using them, and among them are very useful passive skills that are not exactly worth mindlessly spend. Why take the steps of opponents louder if you are unlikely to see someone in the near future? Why highlight all the objects in the area if you are in the field and to the nearest house too long to run? Not all amplifiers are equally useful (it is unlikely in the final round will be useful more powerful punch, which will heal you), but when the player decides what and in what situation it is better to activate, it will be harder to defeat him.
Finally, Blackout differs from other games by the presence of AI zombies. Often they guard the crates with the best gear like sturdy armor, or cool weapons. Fighting them is dangerous not only because they can encircle while exploring the boxes, but also because of the noise inevitably attracting other players. It is too much to get carried away with the battle with the walking dead, as someone quietly come back and take you out of action. Killed zombies drop ammo, first aid kits and even unique weapons, including a ray gun.
In the preview it is hard to cover all that offers Blackout. Here dislike "campers" – in the bushes do not allow to hide the invisible walls, but you can pass through them on a Quad bike. Here is a very quickly up the allies, in just a few seconds. Here almost instantly is the next match. Finally, here is a wonderful pace-the game does not swing for a long time, but does not end too quickly. And to part with this mode is very difficult, time flies by and you want to run one match after another. So far, Blackout seems like a fantastic thing with a huge potential that will allow Black Ops 4 to become the best Call of Duty in recent years.